The 2023 Clermont-Ferrand International Short Film Festival poster is out!
Clermont and stars
It is our great pleasure to unveil the poster for the 2023 Festival, created by the Portuguese artist Regina Pessoa. An illustrator, a director of animated films, a devotee of cinema and pre-cinema as well as a regular at the Clermont-Ferrand Film Festival for the past twenty years, Regina now shares her sources of inspiration, her techniques and her ties to the Festival, which she attended in 2022 as a member of the National Jury.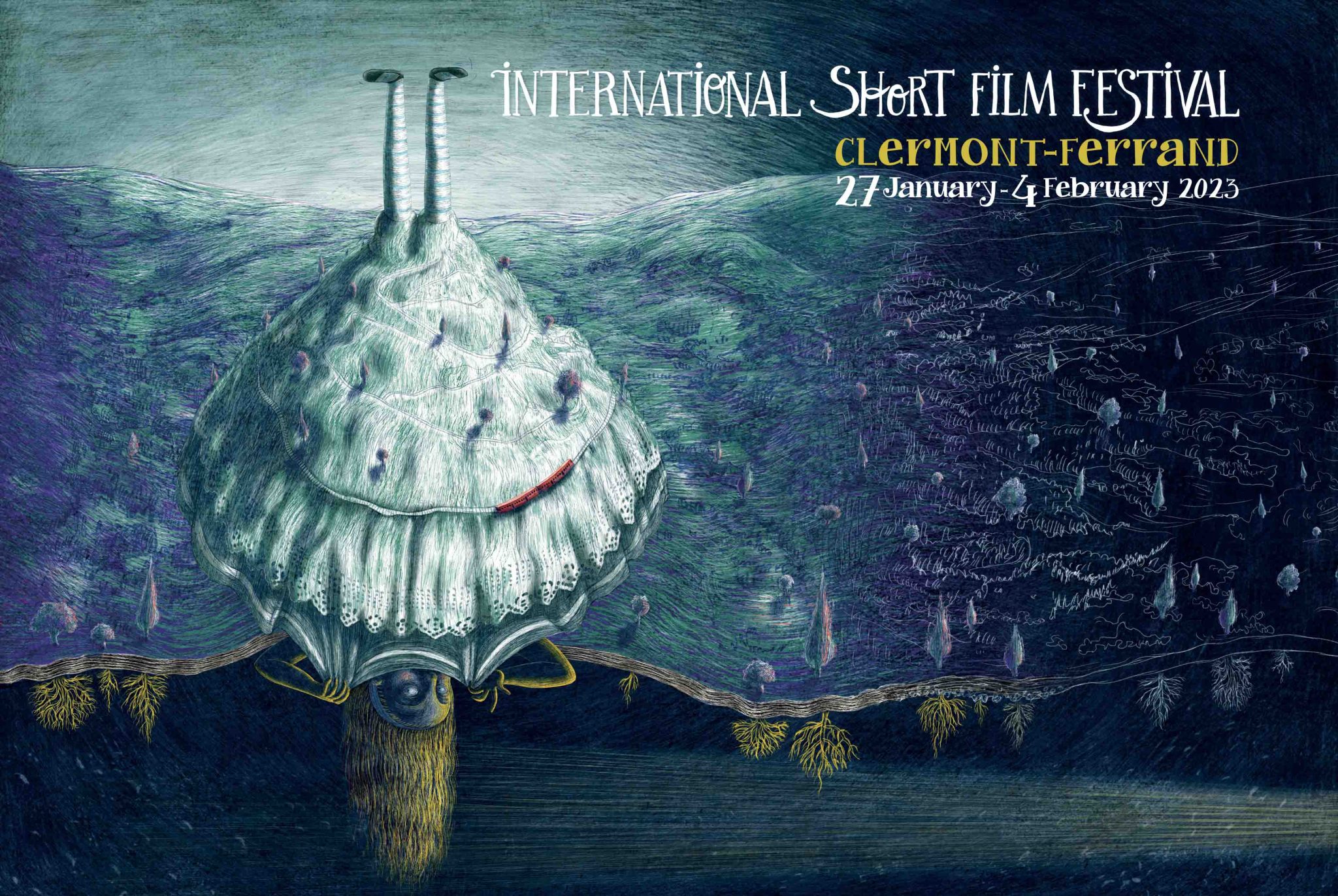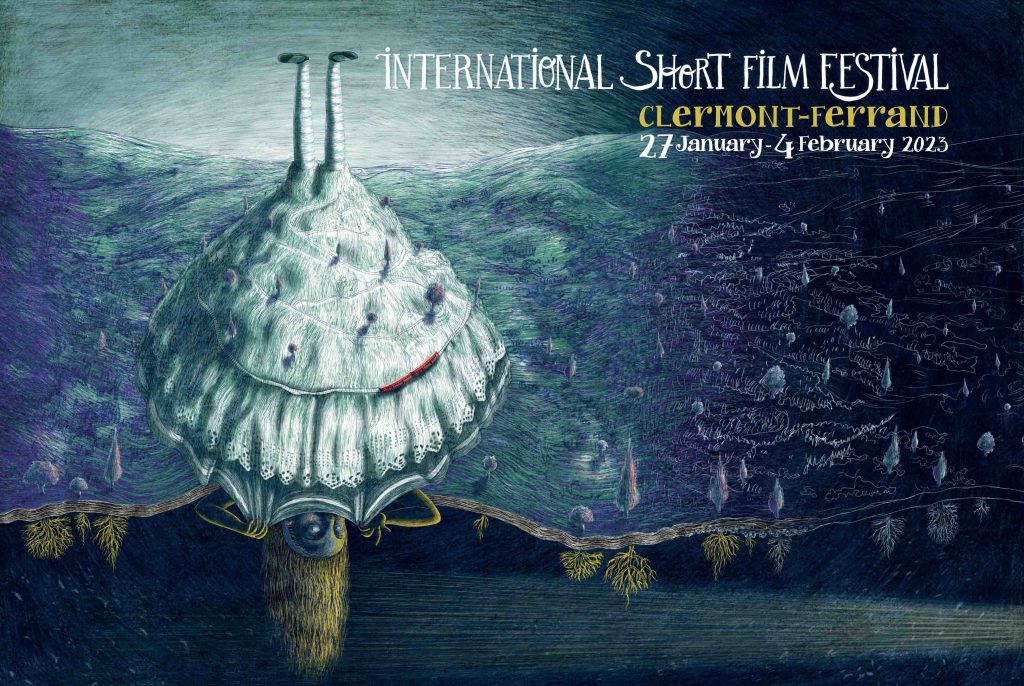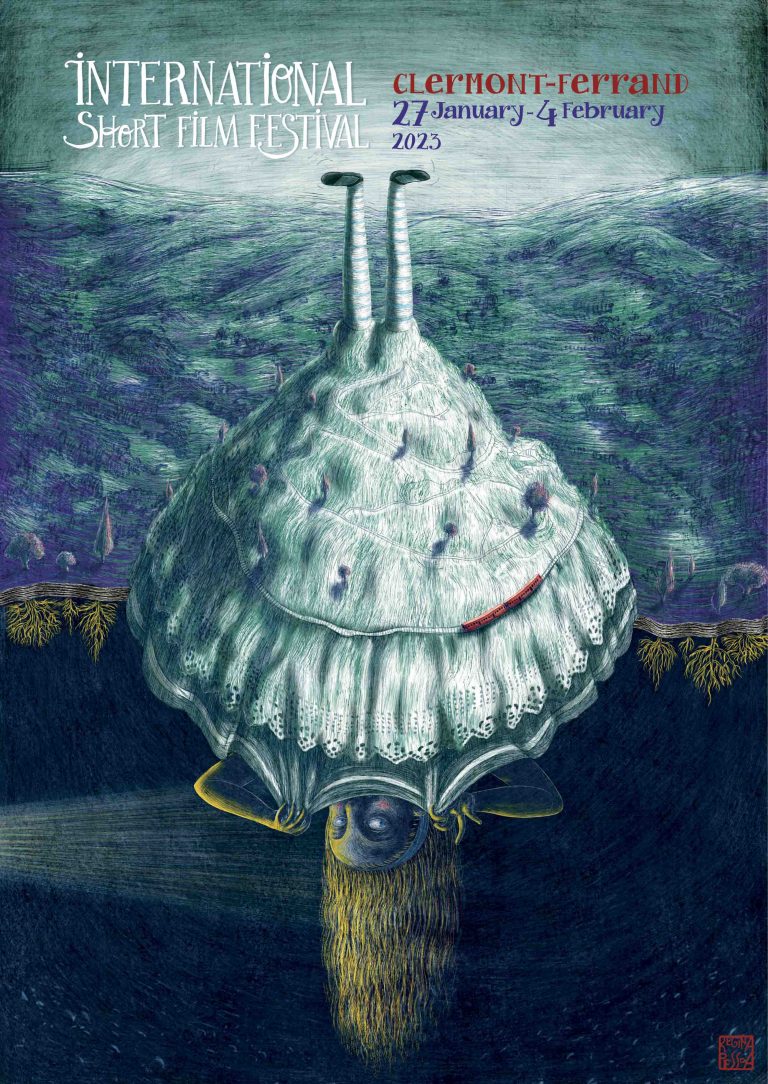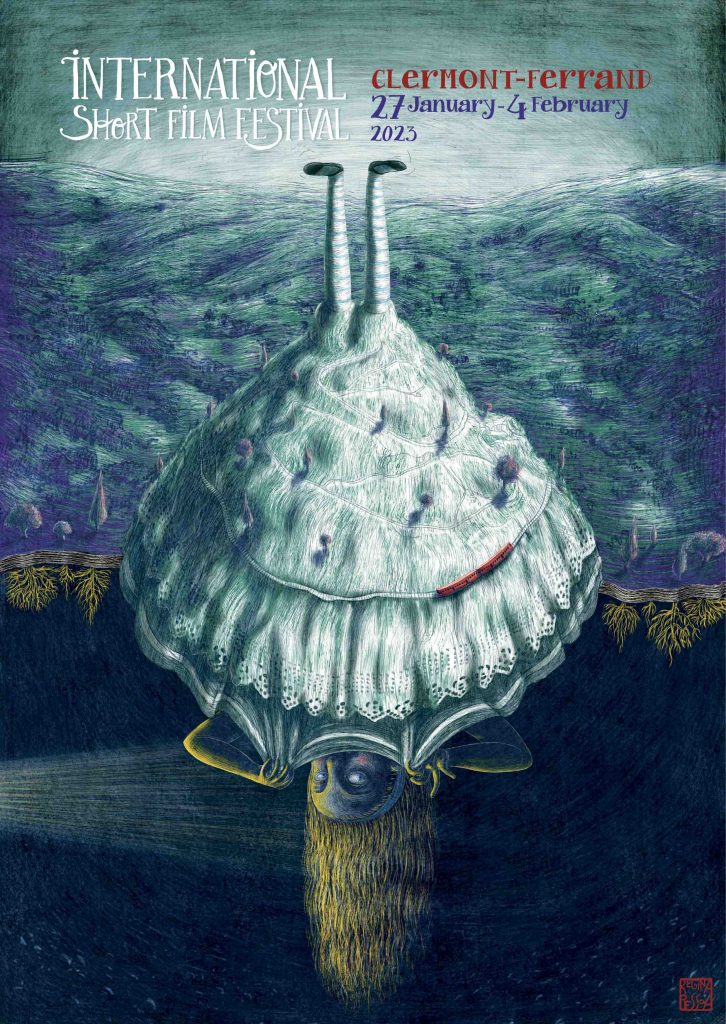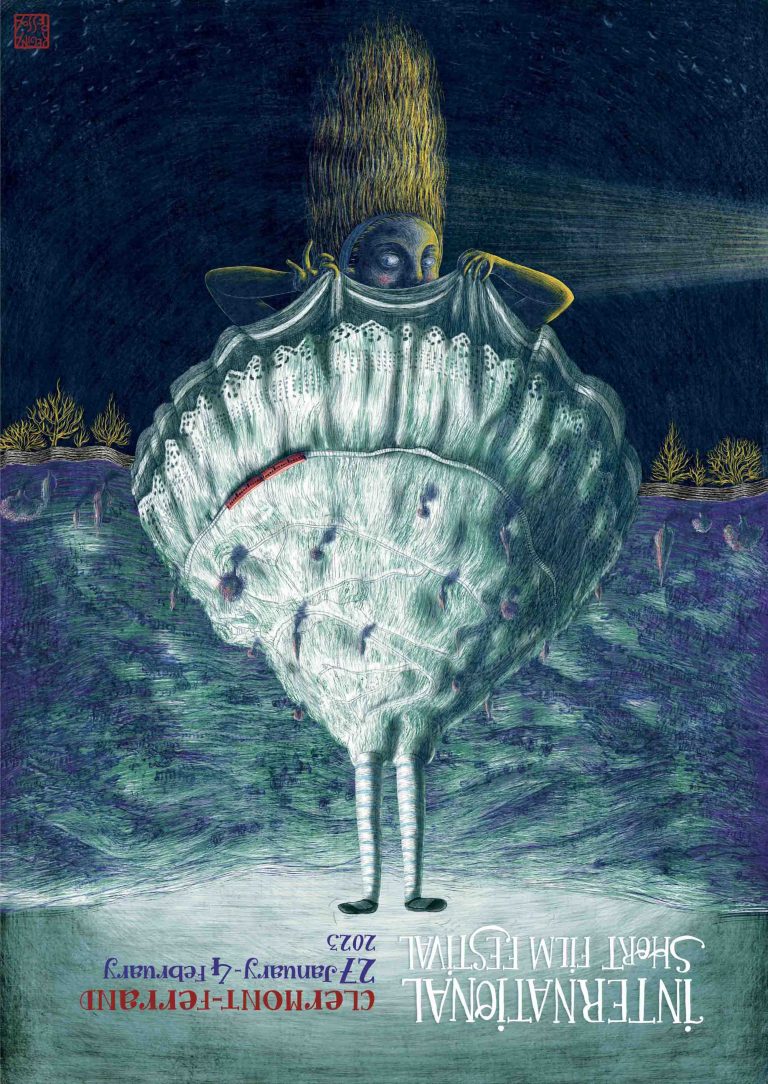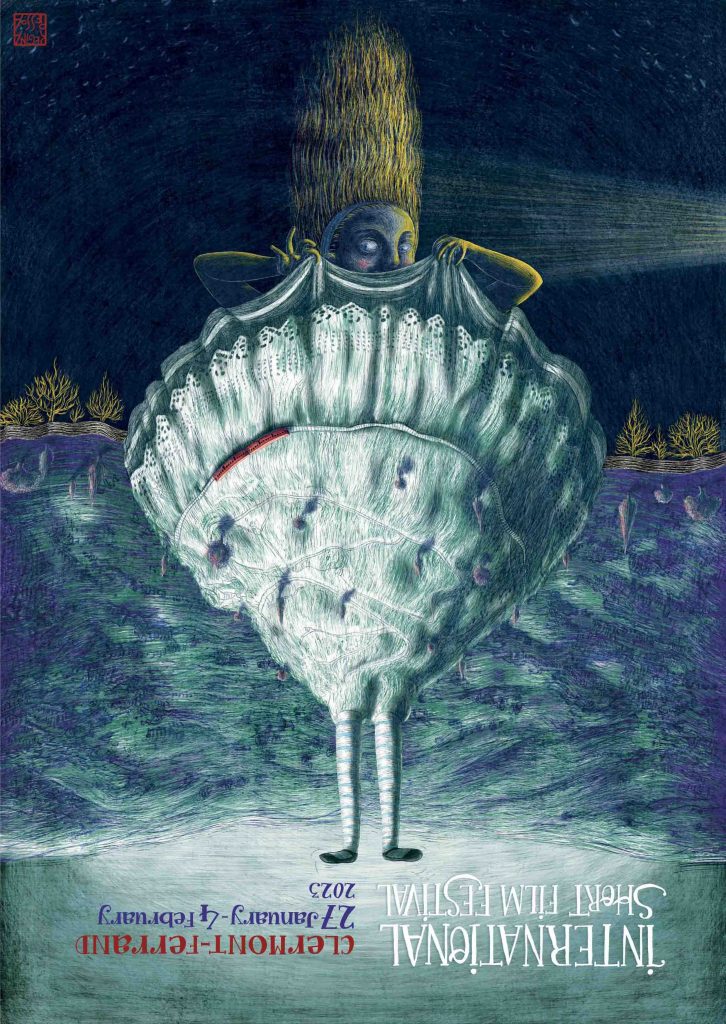 "I was very happy that the Clermont-Ferrand Film Festival invited me to create the poster for their 2023 Festival. Quite apart from the fact that short films are my favorite format, I've always admired the editorial direction guiding the Festival's posters and several of them are part of my personal collection. I'm grateful to the trust the team placed in me, and what you see today is the result of the continuous, kindly and extremely positive dialogue between us.
In my personal work, I like developing images that may seem simple but can be read at numerous levels and can't be grasped in a single glance. I also like exploring people and settings that reveal an internal world that is both fascinating and troubling. This image for Clermont-Ferrand is no exception and my approach to the composition was influenced by several factors, some of a personal nature, others coming from the landscapes around the Festival, and still others are of a more general nature, prompted by the world we live in, which has been far from dreary these past few years:
First, concerning the Festival: since it takes place in Clermont-Ferrand, I thought it would be interesting to highlight something unique and typical of the region. I thought of its eroded mountains, the ancient volcanoes, the Puy de Dôme! As I looked at it, the mountain reminded me of a skirt…
I thought of the ancient craters, and the name " PUY de Dôme" reminded me of Alice, who falls down the hole that leads to Wonderland (pays). In this specific rendition, my Alice of Clermont-Ferrand does a headstand as she falls into the crater. As she does, gravity flips her skirt up, revealing her lace slip which melts and merges with the mountain's paths and roads, creating a soft, very feminine composition.
So underground there is Wonderland, which is a reference to the Festival itself where, in the dark, a beam of magical light illuminates Alice's face. This is also an allusion to the darkness of a movie theater where you can make out subtle silhouettes that could be the audience, crouching in the shadows.
Chance and a few current events prompted me to choose the colors: I wanted notes of blue and yellow as a discrete homage to a war that is too close to us and too absurd for us to remain indifferent.
At the same time, as I was pouring coffee for some friends, I realized that the cups and saucers formed an unusual combination of color, a purplish blue with green. I was taken by this strange mix of colors and decided to try it out in this composition.
If you flip the image upside down, it still works, and now we see Alice hoisting up her skirt and looking at the viewer with a naughty, knowing air… You don't necessarily have to interpret that as provocation, but more as thumbing her nose at the assaults on women's freedom which is still threatened and derided in various parts of the world, preventing us from doing as we wish with our bodies. Here Alice openly faces the viewer as if she's saying, "This is my body. I'm going to do what I want with it".
Finally, the composition could also be an allusion to the "world turned upside down" that we're living in nowadays. Like Alice, we'd like to take refuge in a reassuring corner of the world, and find our own burrow somewhere… maybe in Clermont-Ferrand?"
Regina Pessoa, August 2022
---
Who are you, Regina Pessoa?
Regina Pessoa was born in Coimbra, Portugal in 1969. She studied Painting at the School of Fine Arts of the University of Porto. In 1999, she directed her first film, A Noite (The Night) using a technique of animated engraving on plaster plates. Since then, working with a variety of animated engraving techniques, she has continued to create and direct auteur films such as História Trágica com Final Feliz (Tragic Story with a Happy End) in 2005, Kali le petit vampire (Kali the Little Vampire) in 2012 and Tio Tomás, a Contabilidade dos Dias (Uncle Thomas Accounting for the Days) in 2019. Her films have since gone on to win over 150 awards at major international film festivals.
In 2016 became Senior Lecturer at Animationsinstitut – FILMAKADEMIE, Germany. In 2018 became a Member of the Academy of Motion Picture Arts and Sciences.
In 2021, she was elected in 3rd place – and the 1st woman – in a list of the best 25 animation short filmmakers of the last 25 years, by a jury made up of 25 international leading academics, scholars, artistic directors and journalists, an initiative of Animac – Catalonia International Animation Film Festival – on the occasion of the celebration of its 25th anniversary.
Regina expresses a distinctive and creative personal vision, not only in her films, but through her illustration, painting and drawing works. She is currently developing her next film, Mother Faces at Ciclope Filmes Studio owned by her and her partner and situated on the grounds of their charming Museum of Moving Image – Casa Museu de Vilar.
During the 2022 festival, she took part of the Clermont-Ferrand Short Film Festival as a National Jury member.
Interview with the artist


---
Point of sale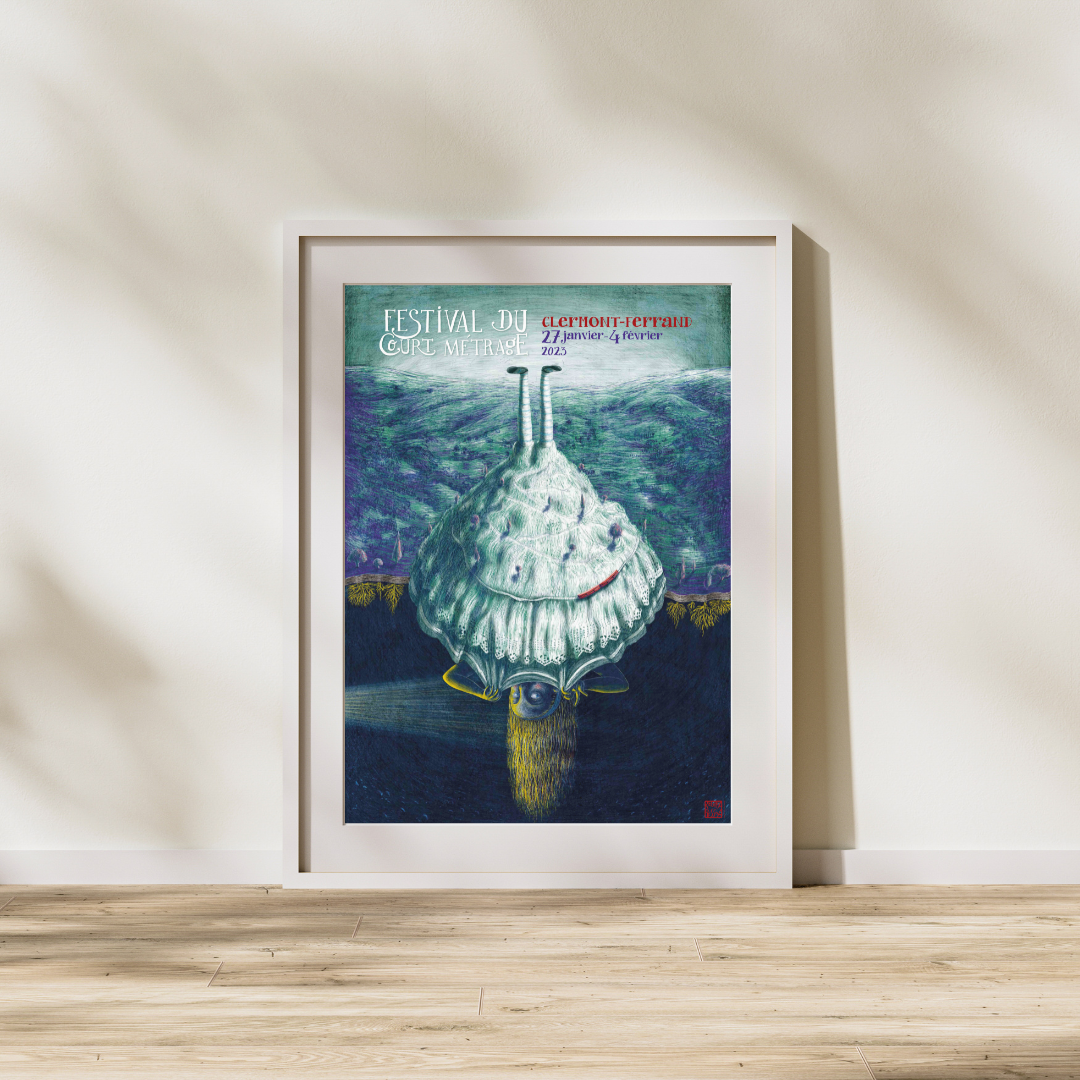 Find the poster for sale in the following formats:
– A1 (51,4 x 84,1 cm)
– A2 (42 x 59,4 cm)
– postcard (10 x 15 cm)
– magnet (7 x 4,5 cm)
on our online shop