The 2024 Clermont-Ferrand International Short Film Festival poster is out!
The Garden of Earthly Delights
We're delighted to unveil the official poster for the 46th Clermont-Ferrand International Short Film Festival, designed by talented American illustrator Stacey Rozich.
This watercolorist offers us a fresco bursting with acidic characters and settings straight from her imagination and the short films that inspired her during her journey as a juror for the 2023 international competition. Can you identify the filmic references scattered throughout this poster?
In a mishmash of meticulously crafted details, she presents us with a bizarre bestiary, conjuring up the fantastical universe of Hieronymus Bosch (hence the title, inspired by one of his works), mixed with spirituality and color palettes drawn from both the Mexican culture with which Stacey is familiar, and 16th-century Indian paintings.
The world that Stacey Rozich stages offers us a multitude of story starters, like so many short films screened over nine days, leaving us free to begin, compose and end this narrative wherever we please, with a strong dimension imbued with mythology and folklore in the pure vein of pop art.
Once upon a time short films, from February 2 to 10, 2024 in Clermont-Ferrand, of course.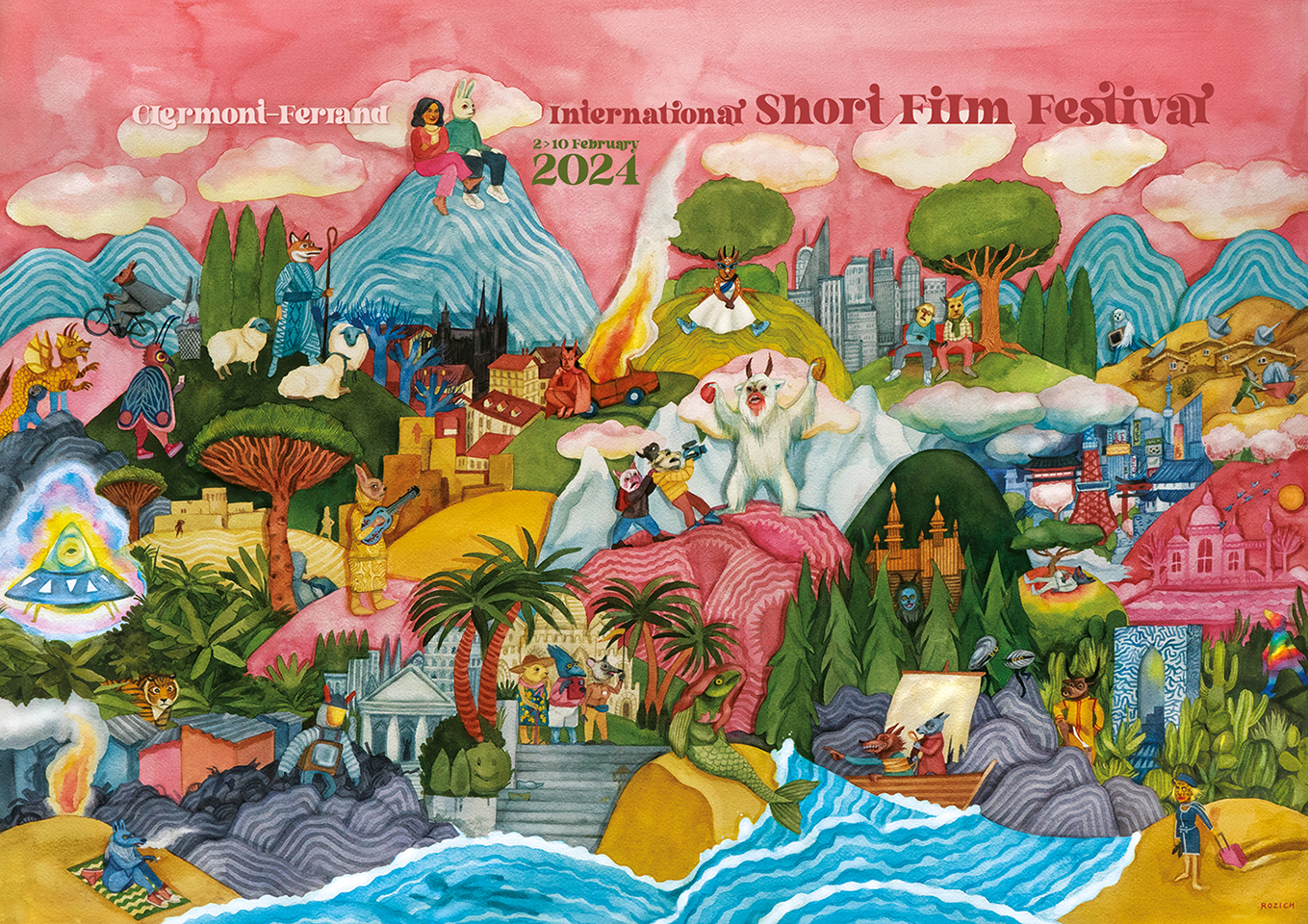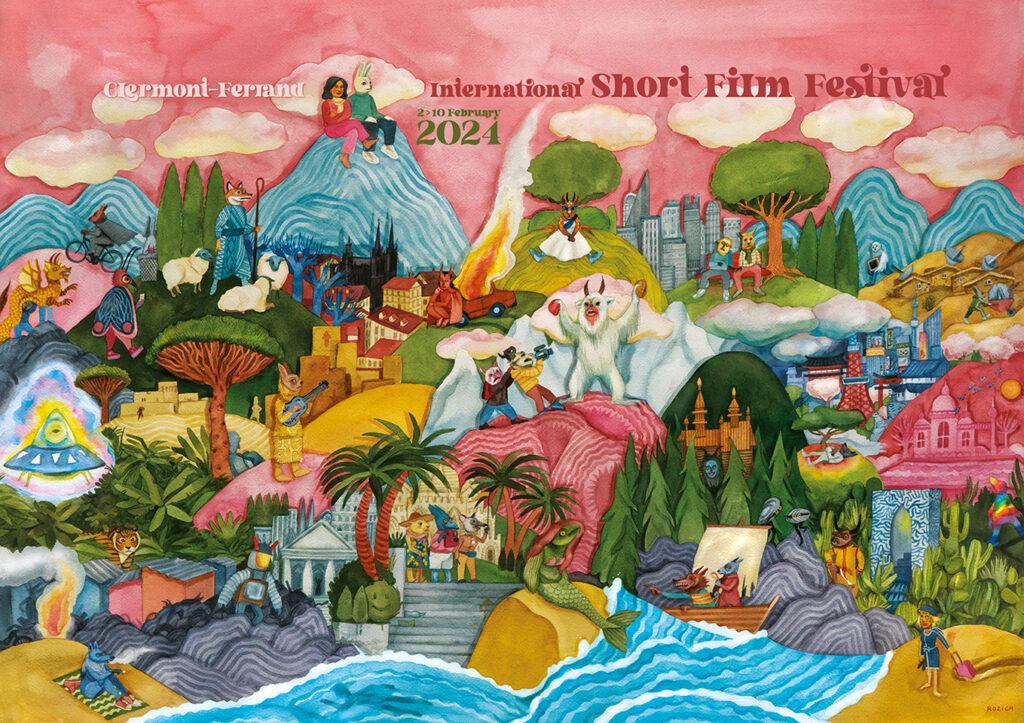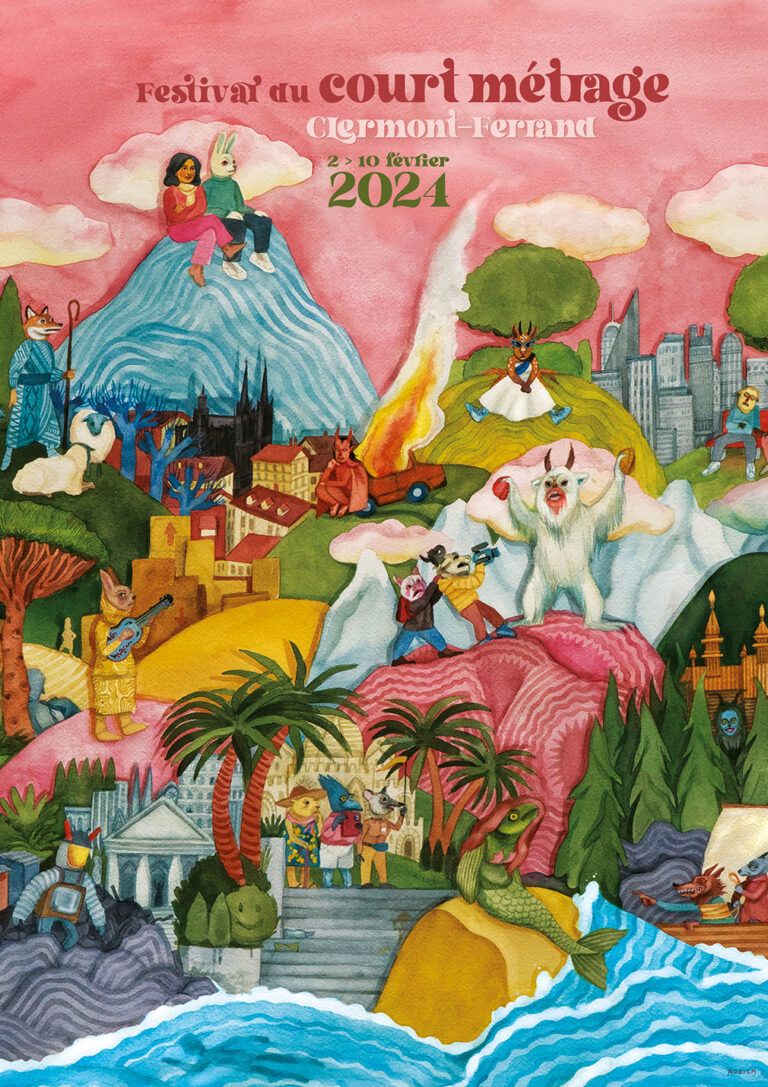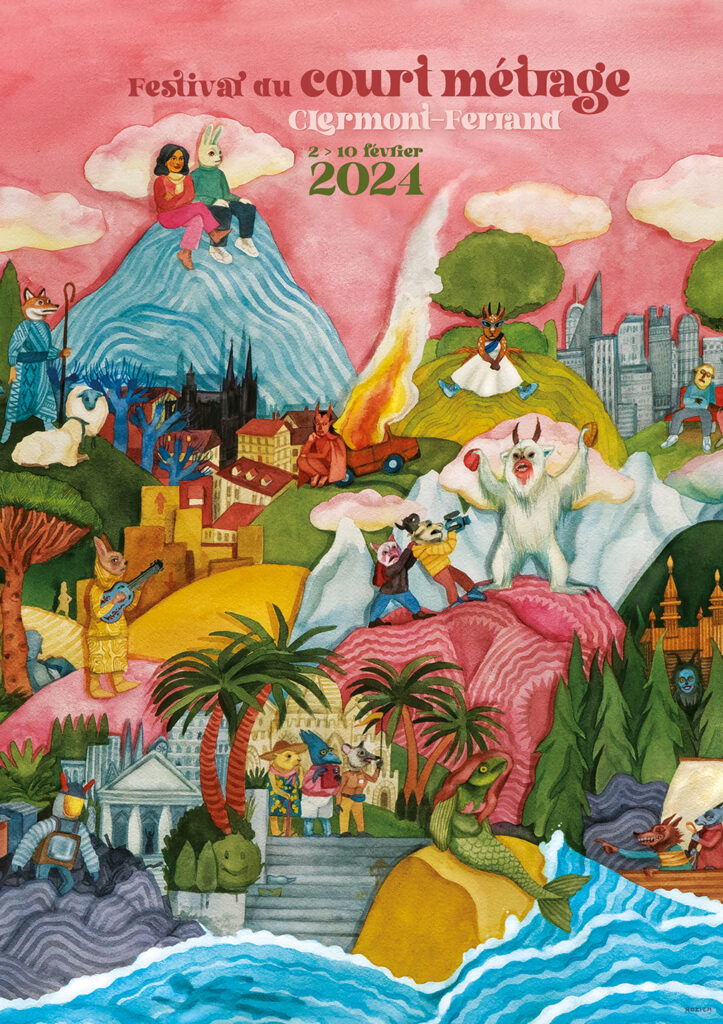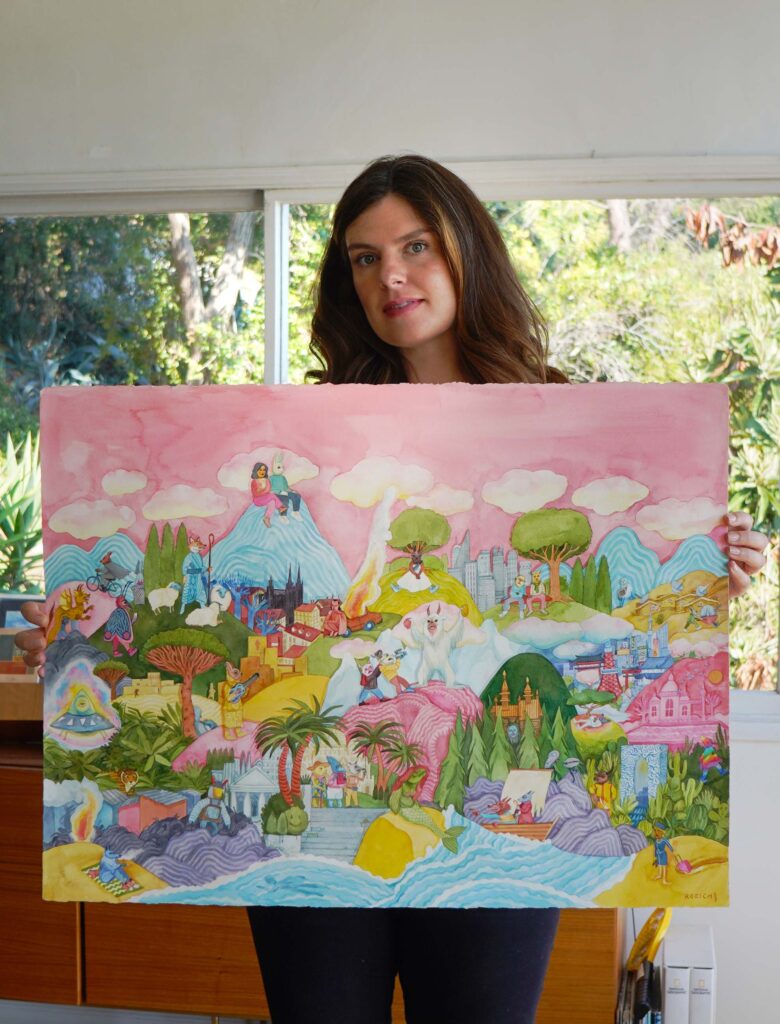 "In the Autumn of last year I was delighted to receive the commission to create the poster for the 2024 season of Clermont-Ferrand International Short Film Festival and to be a juror on the International competition at the 2023 festival.
It was my absolute pleasure to journey to Clermont-Ferrand, to meet and work with the festival team and most of all to watch many inspiring short films. Quite a few of them have stayed with me long after I had returned home to Los Angeles. I had a lot of rich material to work with.
Something that struck me while I was viewing these short films was the feeling of being transported. It felt surreal to be out on a cold sidewalk in the middle of February, walking into a crowded cinema and suddenly you are in the bustling city of Taipei, or in the desert of Somalia or the steamy jungles of Colombia. You, the viewer, are on a journey that will take you all over the globe in a short amount of time. I felt lucky to peek into disparate perspectives, to observe tales from a diverse presentation of countries. This idea helped me create the concept for the poster I painted for the 2024 festival. I began thinking about how to recreate contrasting narratives and regions in one space that felt alive and cohesive.
Much of my work is informed by surrealist painters like Leonora Carrington and Heironymous Bosch — Bosch's work in particular spoke to me in regards to how to create a scenario built on singularly bizarre vignettes that act in concert to portray a larger narrative. From there I turned to my art book collection and a collection Gardens & Cosmos: the Royal paintings of Jodhpur jumped out at me. What I liked about this style of 16th century miniature paintings of the Mughal Indian empire is that they were created as documentation of significant events for the emperors because that was the main form of presenting information.
These lavish scenes appeared in albums and manuscripts depicting battles, legendary stories, hunting parties, wildlife, mythology and everyday life. This varied list resembled the programming of the Festival. A 16th century and the 21st century form of storytelling informed the creation of this poster.
Additionally the style of painting in miniature appealed to me because I love to render small details in my work. I strive to make a composition as visually rich as possible. From the leaves on the trees to the garments worn by the figures, everything works together like musicians in a symphony.
A connection many of the past festival posters have is featuring something of the region itself. I chose to highlight the Puy de Dôme and the surrounding volcanic mountain range as a row of movie theater seats. The two main spectators are firmly based in Clermont Ferrand while they gaze upon the beauty and chaos of this storybook world unfolding before them. Of course I had to paint the city center and the beautiful, foreboding Cathedral of Our Lady of the Assumption. Many of the small vignettes are pulled from the films I saw in the 2023 season but many of them are surrealistic visions from my imagination. The multilayered composition allows the viewer's eye to travel down from the top two figures to the cascading scenes below. Each offers the opportunity for the eye to rest on a space and inquire: who are they? What are they doing? Or to enjoy the small patterning or texture on a hillside. Each portion of this poster offers a treat for the eye. These moments stand alone but truly come together with equal parts mystery and humor, much like the collective work of all of the wildly talented directors, actors and production teams showcasing their films.
The festival takes place during a cold, gray month; all of the flowers haven't bloomed yet and the trees are bare. It's freezing! Technically Winter is a season of slowness, and of hibernation so I wanted to paint something that would feel alive, and to catch the eye. I work with a lot of color in my paintings so this poster was an excellent opportunity to utilize a vibrant palette. I wanted it to project the magic the festival brings to the city and the viewer and to hint at what excitement awaits them.
I hope the audience enjoys this poster as much as I enjoyed painting it. It was an honor to create, and to work with the lovely festival organizers who truly believe in the importance of the arts in our communities, and in all of our lives."
Stacey Rozich, Los Angeles, August 2023
---
Who are you, Stacey Rozich?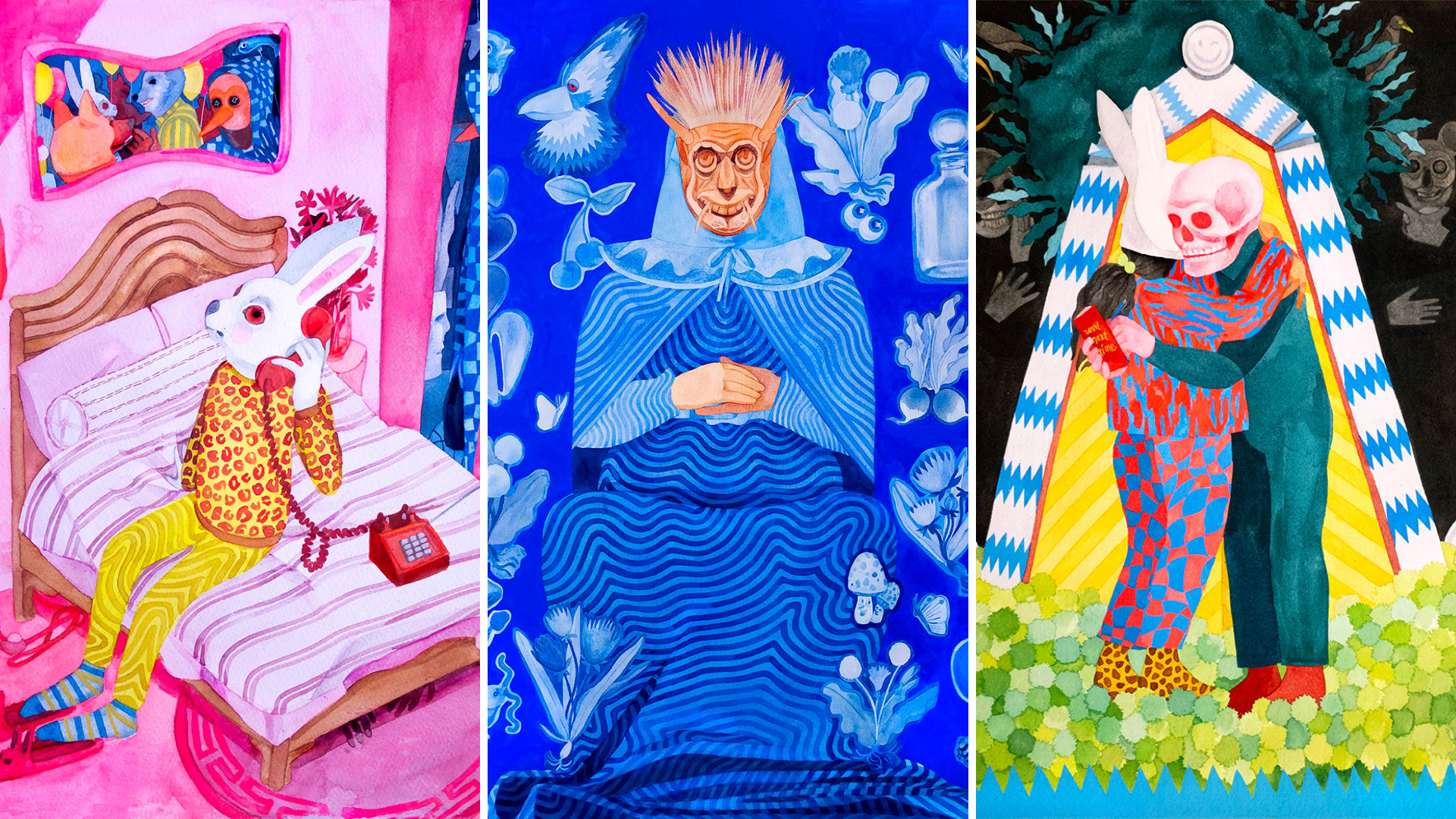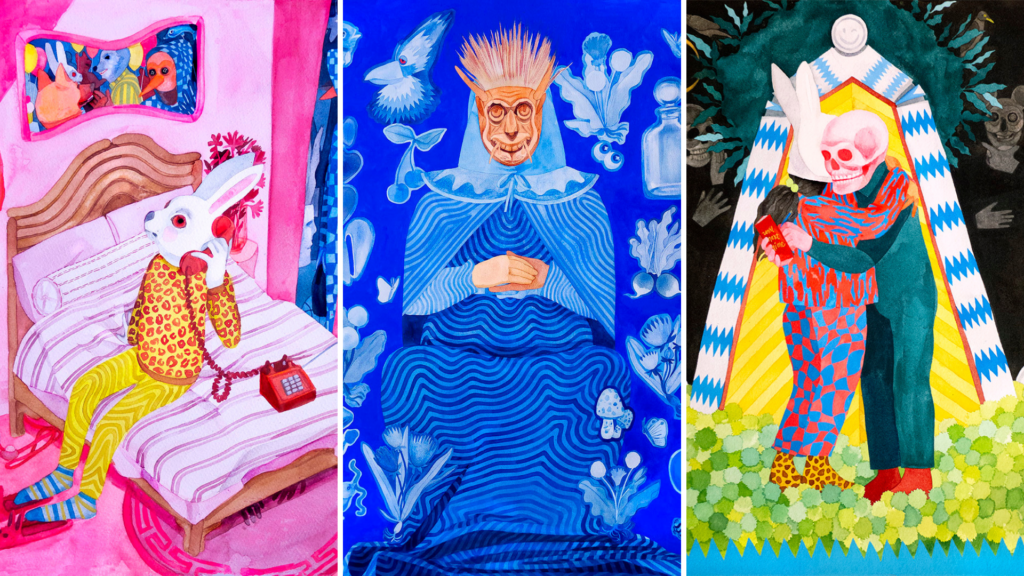 Stacey Rozich is an artist, illustrator and occasional muralist. She constructs situational vignettes that combine elements of folklore, surrealism and American pop culture. Her storybook world is brought to life through lush patterning and symbolism rendered in watercolor and gouache. She was born and raised in Seattle and now resides in Los Angeles.
At the same time as creating this poster, she worked on her first book for children.
Watch the poster's making-of
---
Point of sale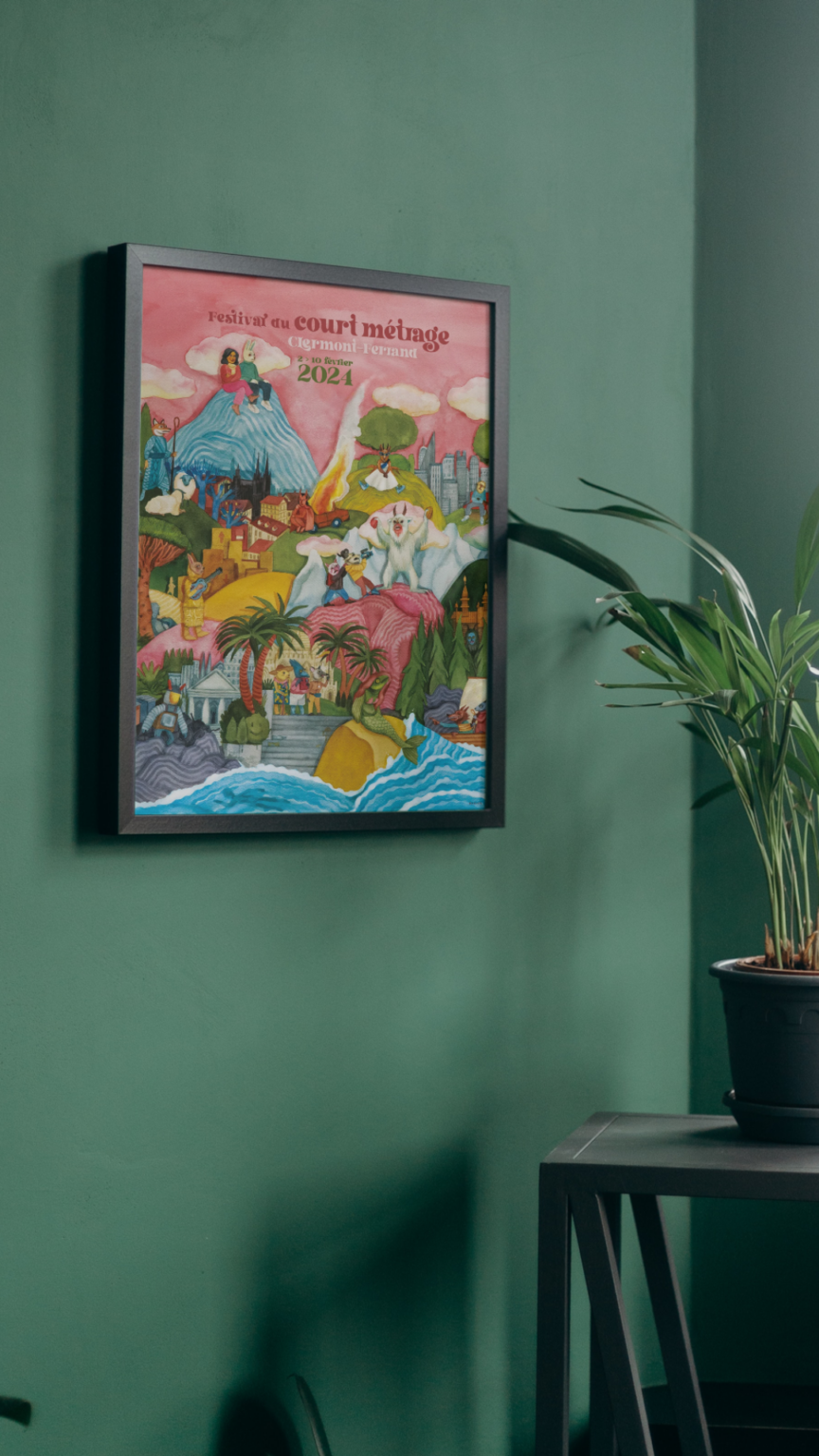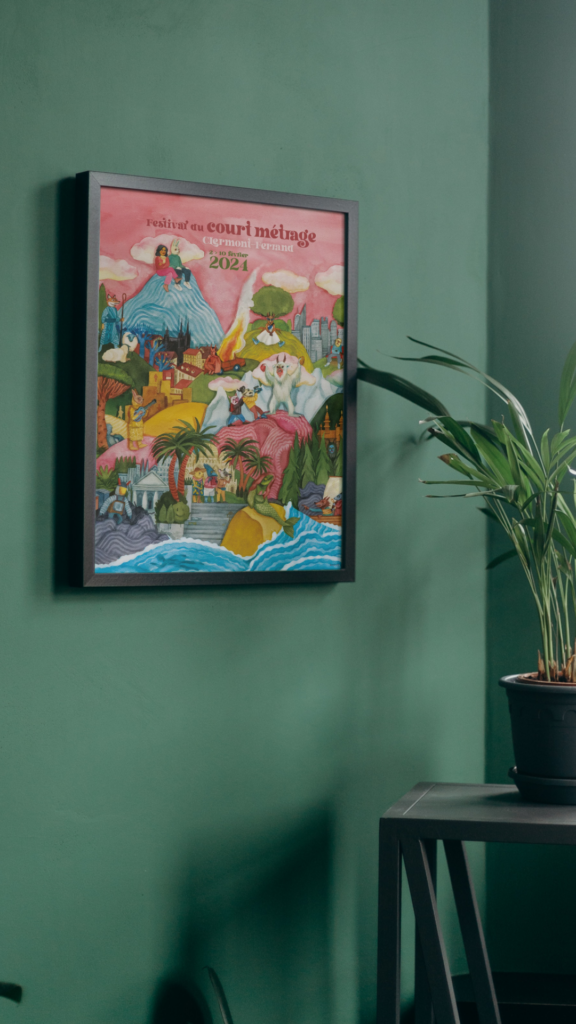 Find the poster for sale in the following formats:
– A1 (51.4 x 84.1 cm), portrait and landscape formats
– A2 (42 x 59.4 cm), portrait and landscape formats
– magnet (7 x 4,5 cm)
– postcards (10.5 x 15 cm) available in portrait or landscape format, plus 8 different versions of vignettes from the poster (available in packs of 10 or individually):