Départements
The Auvergne Region is composed of 4 districts:
– Allier
– Cantal
– Haute-Loire
– Puy-de-Dôme
Surface area
26 000 km2
4,8 % of the national territory of France
Population
1 309 000 inhabitants
2,2 % of the French population
Density : 50 inhabitants per km2 (104 inhabitants per km2 in France)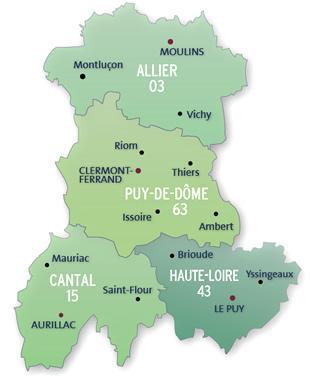 Towns
1,310 towns and villages of which:
- 90 % have less than 2,000 inhabitants
- 1 % have more than 10,000 inhabitants
Two Regional Natural Parks (the Livradois-Forez Park and the Auvergne Volcanoes Park)
Higher education
40,000 student
2 universities
5 engineering schools
1 business school
Economy
Several European and world leaders (Michelin, Limagrain, Volvic…)
Companies :
Tertiary: 63 %
Industry: 25 %
Agriculture: 10 %
Other: 2 %
Tourism
More than 180,000 beds for tourists (hotels, camp-sites, B&B, gîtes, holiday villages...)
30 million nights of tourist accommodation per year.
Places to visit: more than 500 Romanesque churches, 10 spa towns : with all the charm of the "Belle Epoque"
The Auvergne Film Commission is funded by the Auvergne-Rhône-Alpes Region. She is a member of the Film France network and works in close collaboration with the Rhône-Alpes Film Commission.