Each year at the Clermont Film Festival, our audiences embark on a cinematic journey, exploring a different country through our geographical retrospective. They (re)discover unique cultures, tones, and stories from around the globe through a selection of extraordinary short films, including some past favorites. Since the candidacy of our city, Clermont-Ferrand, was announced a few years ago, the city itself has started to resonate more on a European wavelength. The festival has decided to broaden its scope. For the 2024 focus, it is not just a country, but an entire continent we aim to explore. This year, our thematic retrospective is dedicated to strong female figures, and thus, we thought showcasing Europe in a feminine light would be fitting.
22 films from 24 female directors representing 25 countries. The more observant will notice that alongside the 20 European Union member countries, the United Kingdom and Switzerland are also present. This year, our focus is not on a political or geographical Europe, but rather on a cultural Europe. European cinema often reflects a world in flux, sometimes revealing its monstrous and grotesque facets. These themes are central to the work of Swiss director Corina Schwingruber Ilić. Her film All Inclusive criticizes consumerist excesses with humor and without dialogue, inviting viewers to form their own interpretations. European cinema is also about transforming and experimenting with aesthetics. In Love, Dad (award winner in 2022), Diana Cam Van Nguyen uses a blend of animation techniques (2D, cutout, rotoscoping) to explore a fractured relationship with her father.
In the world of cinema, short films often provide a more egalitarian platform compared to feature films. Yet, it remains a challenge for filmmakers, especially women, to be seen, heard, and understood by audiences. This year, Clermont puts them in the spotlight, showcasing a diverse array of cinematic genres. Consider the genre of cinematic storytelling. Kaksi Ruumista Rannalla (Two Naked Bodies on a Beach) by director Anna Paavilainen evokes a shared imagination, blending poetry with Lynchian nightmares, echoing themes from war and action movies. Between the genres of the too-perfect fairy tale and comedy, Son Altesse Protocole (2022 Télérama National Press Prize) by Aurélie Reinhorn stands out, as she takes us through the hilarious first day of an amusement park employee. But it is above all humanity itself that is reflected in each of the films of this focus.
It is a dive into the intimate and the universal, films turned inward and outward, spanning generations. Babičino Seksualno Življenje (Grandma's Sex Life), an animated work by Urška Djukić and Émilie Pigeard, humorously and poignantly explores a grandmother's life. It's a tender portrayal of memories and secrets that comprise every individual. Sometimes, however, help comes from unexpected quarters. In the tense Une sœur (A Sister) (also featured in this year's Thrills section), a phone operator receives a call that will alter her life and that of the caller dramatically.
Regardless of whether Clermont is crowned the European Capital of Culture, it reigns supreme in European short cinema each winter. We look forward to properly celebrating it with you in February 2024!

Since time immemorial, women…*
In 2022, Chantal Akerman's epic film, Jeanne Dielman, 23 quai du Commerce, 1080 Bruxelles, topped Sight and Sound's list of the 100 greatest films. It's the first time a female director has led the ranking, and it's no small feat. As a reflection of the #MeToo movement, it seems that women are finally being reconsidered, both in front of and behind the camera. The motivation behind this retrospective is our desire to showcase portraits of strong women at the heart of films, far from the figures of housewives or objectified women.
Sorority first, this egalitarian relationship, a tool of power and rallying, will be highlighted with a foundational film and precious archival document, Y'a qu'à pas baiser! directed by Carole Roussopoulos in 1971. It's also about emancipation, the kind that comes through the body, its discovery, and its reappropriation. This theme is also explored in L'Amérique de la femme and Kleptomami, where sexuality is addressed forthrightly, and the physical invasions and other impositions of motherhood are discussed. There are also women born in the wrong envelope, like Shin-mi in God's Daughter Dances. And others who fully embrace their bodies to make a living from it: sex workers. In Un jour bien ordinaire, Ovidie and Corentin Coëplet present us with a revealing dystopian universe, while in Je les aime tous, the French actress Corinne Masiero embodies the writer, painter, and Swiss prostitute Grisélidis Réal.
A unique experience: each program will start with a short film from the H24 series, produced by Arte, which invites us to step into the shoes of today's women.
Presenting portraits of women will also mean addressing what constrains them, because even if this collection primarily includes positive and fighting figures, we do not forget those for whom the struggle still seems unthinkable — like the Iranian swimmers of Beach Flags, deprived of a pool by Islamic law, little Aïda, from Maman(s), who bears the heavy burden of traditions against which she can do nothing, for now. Or the heroine of Egúngún who chose to leave to finally become herself, elsewhere, far away.
There is emancipation, either abrupt or gentle, with Olla, Sacha, and Mélissa, three women with their feet on the ground, in the boxing ring or on the dance floor, who leave us with a similar impression: a fed-up attitude coupled with a desire for revolt. And if we turn the insurgency dial to the max, we come across La Dragonne, who will be the vengeance and the answer to all those who forgot the notion of consent by harassing women on the street.
Behold the portraits of ladies on fire.
---
* Lyrics from the Anthem of the MLF (Women's Liberation Movement).

Thrills
In the spirit of our retrospective, this Thrills programme presents five films featuring female leads from every corner of the globe.
Weighed down by uncouth husbands, taken hostage, seeking revenge or ready to act as savior, these women will take us from a tense, stressful dead end into a black comedy on bloodied snow, all in the space of ninety minutes.
Decibels!
This programme aims to satisfy and bring together lovers of music and film. Inventiveness, poetry and technical precision are at the heart of these creations, their directors at the height of their craft, melding visual and musical worlds to shatter the screen.
Featuring: Björk, Kim Gordon, La Chica, L'Impératrice, PJ Harvey, Lana del Rey, Chai, Fever Ray as well as Pussy Riot.
Bloody Girls
This screening offers up a selection of bloody films for fans of strong sensations where they'll meet with some very angry and frankly quite inconvenient (anti-)heroines. The figure of the innocent young girl is gone: get ready for a waterfall of hemoglobin, it's time for revenge!
Looking Back (Court d'Histoire)
The paradigmatic struggle of the workers at the LIP watch factory

Court d'Histoire (Looking Back) is a single screening of one or more short films, followed by a talk led by a participant.
This year's theme is directly related to the Festival's retrospective topic. The choice this year turned out to be the paradigmatic struggle of the female workers at LIP whose massive strike in 1973 celebrates its fiftieth anniversary. For the occasion, and over the course of several years, the director Carole Roussopoulos followed several women who played important parts in the period.
Two of her films will be shown:
Monique - Lip I made in 1973
Christiane et Monique - Lip V made in 1976
Between the two moments depicted in the films, the situation evolved and awareness was raised, paving the way for a feminism that had yet to be qualified as intersectionality.
Hélène Fléckinger, historian of film and light video and lecturer in film study at the Université Paris 8, will give a talk after the screening.
Collections: the French Short Film Agency turns 40
In the spirit of our retrospective, for the Agence du court métrage's fortieth anniversary, we've devised and helped put together a program of five "birthday" films featuring strong female characters – French short films spanning the period from 1987 to 2019.
KOURT1 program: Kourtrajgirlz

In 1995, Kim Chapiron, Romain Gavras and Toumani Sangaré invented Kourtrajmé, a factory of small punk films - which they came to Clermont to show in a delightful mess.
Almost 30 years later, the school initiated by their fellow student Ladj Ly presents two programs of short films, both born of the Cinéma sessions - and made with 6 students! - or from other programs. The KOURT 1 program, entitled Kourtrajgirlz, focuses on the lives of women, characters in struggle, film authors or actresses, through 6 short films produced over the last four years.
PRIOR TO THE FESTIVAL (in Clermont-Ferrand)
At the resource center La Jetée
As part of Documentary Film Month in November 2023, and as a link to the panorama presented at the 2024 Festival, the resource center La Jetée is offering no fewer than nine screenings-meetings around female figures and numerous activities to awaken your curiosity.
At the Comédie de Clermont
scène nationale
The Fondation d'entreprise Hermès and La Comédie present the festival Transforme –Clermont-Ferrand. The program includes five pluridisciplinary shows written, staged or choreographed by women that renew our know-how linked to theater arts and our perception of the world around us.
Exhibitions
Come and see the usual thematic exhibition led by local artists at the Chapelle des Cordeliers from January 29 through February 17: Remarquables ! (Remarkable Women!) ties in with the retrospective Insoumises.
Invited filmmakers
Filmmakers from many of the programmes that make up the Panorama selections will be on hand during the Festival and you will have the opportunity to meet them prior to the screenings of their films.
A corner for organizations promoting
and highlighting women in the industry
The Short Film Market will house a stall devoted to European organizations that work to boost the visibility and employability of women in the audiovisual sector.
Self-defense classes
"Whenever we hear a woman shout,
It has to be our reflex
To save our species,
Whether transgender or cis"
To answer the call made by Déborah Lukumuena under her penname Jo Güstin in the episode 12h - Le Cri défendu of the series H24, we're offering two classes in self-defense (krav maga) led by Jean Bulhon (Instagram: @jb_kravmaga), open only to women.
Free entrance, by reservation only
A tattoo flash day*
La Main Occulte tattoo shop opens its doors to the public: Come and see the work of six tattoo artists working in Clermont-Ferrand and get "inked up".
You'll be able to get a film-themed tattoo!
First come, first served.
* Tattoo flash is any tattoo design that is pre-prepared for customers.
A forum of organisations
Several local feminist and feminist-united organizations will have stalls at the Maison de la Culture. Come and check them out and chat with the volunteers.
Meetings and discussions
These programs will also be an opportunity to talk about many subjects related to the place of women in the industry: the female take on film, an inventory of the topics and concerns about parity in the French and European film industries, female documentaries, a masterclass, and so on.
Book signings at Les Volcans bookshop
Blandine Lenoir, director of Annie Colère and L'Amérique de la femme
Nathalie Masduraud & Valérie Urrea,
creators and directors of the series H24
(REBELS retrospective)
A feature film screening
On the occasion of her presence at the Rebels retrospective, directress Blandine Lenoir will accompany the screening of her latest feature Annie Colère: the screening will be followed by a discussion with the filmmaker.
Dark Lab - Female version
Just like in 2023 the Lieu-dit will be the after-hours Festival bar and it will host "off du court" throughout the week, assuming the guise of Dark Lab.
Including: (cine-)concerts, DJ sets, karaoke, visual arts and a chill bar.
Price: 5€/evening
Le Lieu-dit
10 rue Fontgiève

OPENING
with the Clermont-Ferrand organisation Sironastra featuring ghouls
Discover the world of Sironastra, where everyone is free to express their art and their identity. Showcasing female/feminist/queer artists in alternative cultures, the organization makes a point of celebrating everyone's diversity.
For the official opening of the Dark Lab nights, you're invited to heat up the dancefloor during an evening of concerts and DJ sets.
GIRLS POWER CONCERTS
Leilå + Swane Vieira + Anzù
(winners of the Pulsations springboard competition of CROUS Clermont Auvergne 2023)
PAR.SEK
DJ set by Sarah Palmer B2BT3MIE
EUROPEAN KARAOKE
Warm up your vocal chords and study your scales!
Under a shower of roses and cascades of flowers, Irène Drésel's techno is as sensual as it is frontal, as spatial as it is organic. Invited as a member of the Lab jury, this singular and radiant artist is the first woman in history to win the César trophy for Best Original Score for Eric Gravel's film À Plein Temps.
... And many other wonderful activities that we're cooking up.
Keep checking this page for updates and news.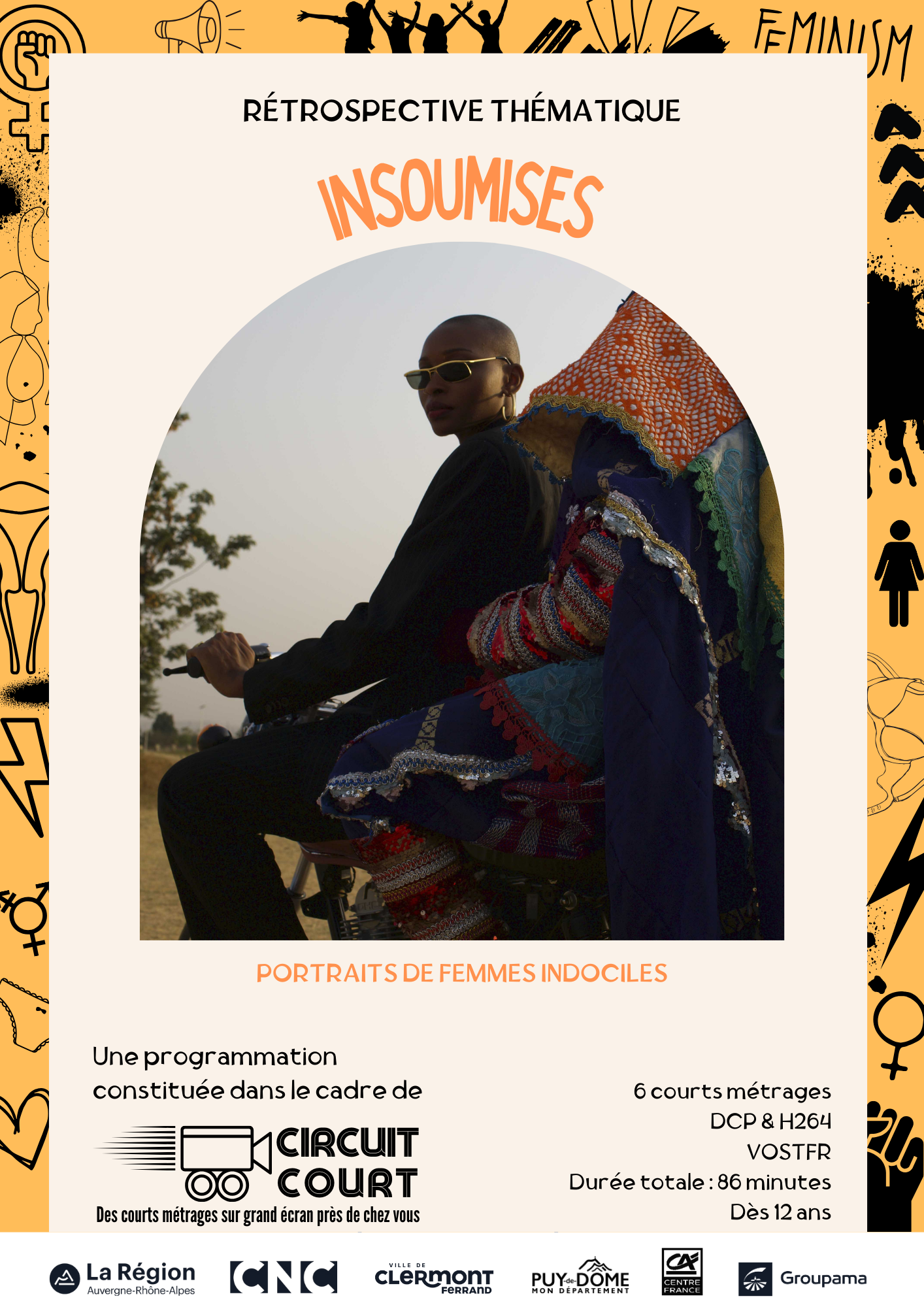 A homemade programme
Whether you are an association, a cinema operator or a local authority, we are at your disposal to prepare your screenings, for a repeat of the festival or to support your projects.
All year long, whether through programs or as an opening act, you can find the short film screenings that we organize throughout our territory via the Circuit Court mission.
We offer you a special "Rebels" programme to discover in theaters from the end of the next festival, from February 11 2024.
Don't hesitate to contact us, so you can have a better experience of the emotion of the festival!
2024 GEOGRAPHICAL FOCUS
EUR♀ VISIONS - European women with a movie camera
2024 THEME ON FOCUS
REBELS - Portraits of defiant women