Tea time with Juste à Nantes
Interview with Marjolaine Grandjean, director of Juste à Nantes 
What was the starting point for Juste à Nantes?
There are several starting points, firstly the experience of the end of my first love which took a completely abnormal amount of time to get over. Concretely, a few years ago, I sent a script to a producer who reads it and says: "The first three pages are great but afterwards it's very weird, it's like it's another movie." I realize that what he says is true: there is a tone, a bit funny, in the first three pages that disappears completely afterwards. I decided to keep only the first three pages, and let myself be guided by the tone and the writing itself. In that way,  I am walking in the footsteps of Helena, the character of the film.
The film unfolds with a certain fluidity: the evening of the group of friends is improvised according to the way events play out. How did you build the script? With a rather spontaneous approach, or on the contrary very written?
As explained above, I got into this scenario a bit by accident: the character of Helena who hitchhikes came up while writing, just like Claude who picks her up. Later, I had a few choices to make, and I had the urge to tell the story of the end of a first love story, mixed with an evening of going out and partying. That period of my life seemed endless to me…youth? – where I seemed to me to constantly live on two planes: heartbreak as well as the fun (life, friends, adventures, etc.) Also, there was a frame to the writing: I wanted it all to happen in one night. It took me a long time to find a balance in this tapestry, and to ensure that the energy of the film did not fall after Helena and Matthew broke up. It corresponded with what I wanted to say: it's not the end of the world. Life does not stop. It goes on.
The character of Helena is particularly well constructed. She is a very rich character, far from any stereotype, and she retains a mysterious quality. Is this what the still shot of her at the end of the film aims to emphasize?
Thank you, it's a pleasure to read, and for the end: yes, your words are on target. This ending – her look – was not written. At one point, it was the end of the shoot, the swimming scene was over, there was no more light, but for me something was missing: a  final shot?! I asked Inès, the actress, to imagine seeing Mathieu, her lost love. And then during the editing, we played with it: we see her listening to me once, and then again. And I felt it's a good way of leaving the film. Also, there is a link created by this gaze. She is being looked at: as if the young girl is looking at the woman she will become, or the young girl is being looked at by the woman she will become. This also contains the idea of time passing: a whole existence to come – hers, which is indeed "inalienable".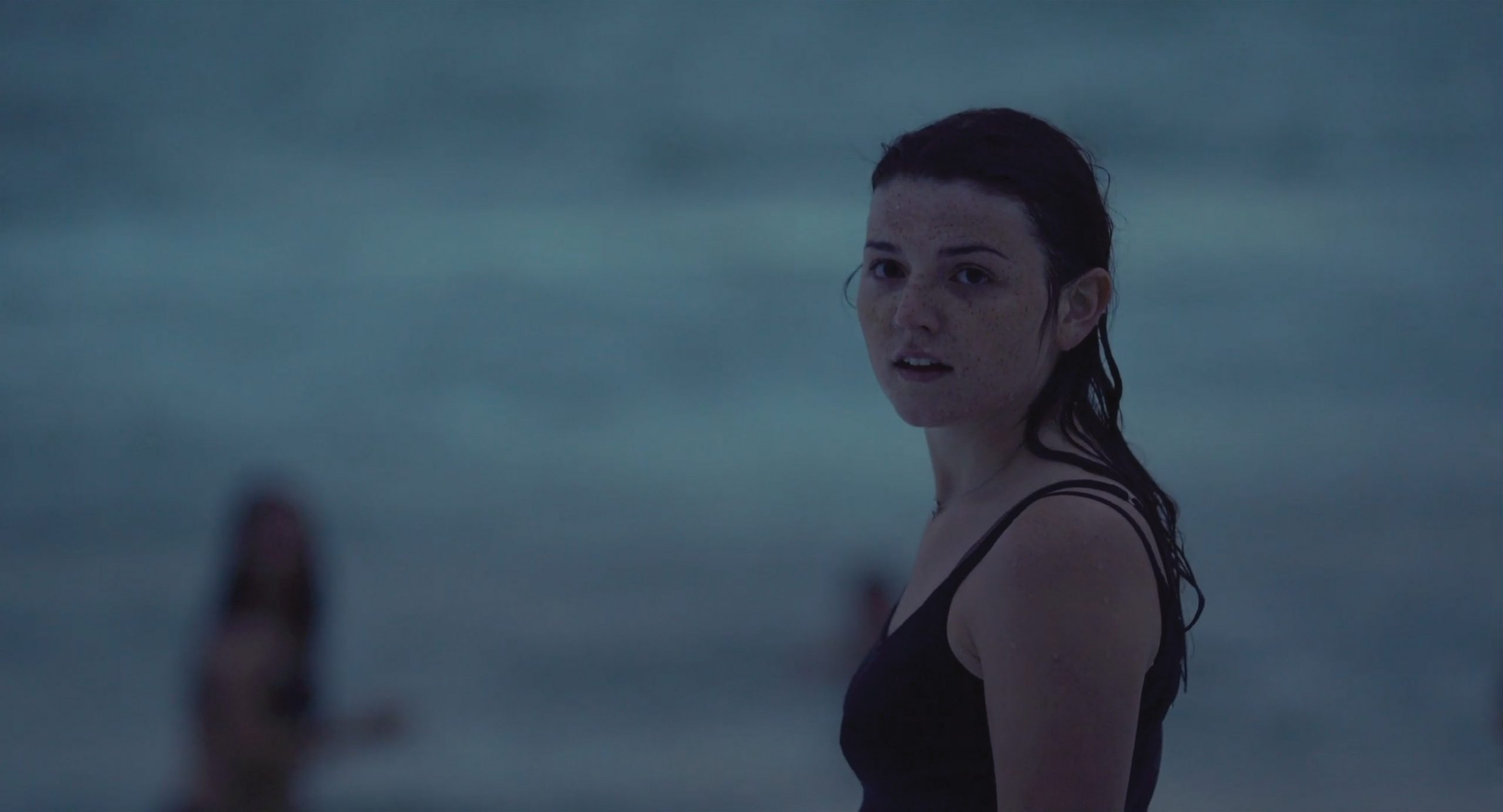 Juste à Nantes operates an interesting reversal of stereotypes: physical strength, irreverence and freedom are on the side of the group of young women, while Claude is withdrawn, even intimidated. Was this a desire to play with the viewer's expectations?
I'm not sure I want – at least consciously – to confront gender stereotypes. However, it is true that the character of Helena is an "adventurer": she hitchhikes and jumps into new encounters. And when you're a girl, maybe a little more than for a boy, it's called taking risks. The male character, for his part, very quickly is shown to be totally harmless, and comes to relieve our concerns, our fears: he is, at best, a servant who is manipulated – with joy – by all these young girls. Or at worst, he's a burden. But there are men like that! My stepfather is like that, extremely helpful, curious, and he was actually the one who lent his BX. He wanted to play Claude, by the way. I thought a lot about the character of Bernard Menez in Jacques Rozier's Du Côté d'Orouët, who does not hide his pleasure at being in the company of young ladies, even if it means being a toy for them.
Do you feel that you have a responsibility in this question of representation?
Of course! For Juste à Nantes, I wanted to tell the story of a girl who meets people. It sounds like nothing, yet, a real encounter, a chance encounter with a stranger, is becoming more rare. To meet people, you have to go out into the world, you have to confide in others. It is scary, and since everything is done to make us afraid, most people feel it's easier not to make a move. Hitchhiking doesn't exist anymore. Now there is Blablacar, we sign up, we can even refuse to ride with a man, if you are a woman. If you want to meet someone, you can go through dating sites, and "decide", "assess" who you want to meet etc. When I was 18-20 years old, I hitchhiked and I went on vacation a few times alone. It scared my mother very much, but for me these were important experiences, with a bit of anxiety but mostly freedom. So yes, for me, portraying a young girl hitchhiking is important. To show it is to state that it is a possibility.
What do you think the future holds for short films?
I hope and assume a bright future for shorts on the internet, which can sometimes support short formats better. We should create THE global platform for short films, with subscriptions, and wide access to short films, listing them, by year, or genre, or author. (What did the Short Film Agency start doing with Kino?) What people want, and will continue to want anyway, are stories – no matter how long. I would like there to be more programming of short films in the cinema, in addition to festivals. I really liked a program of erotic shorts called Destricted which hit theaters in 2006, in which I discovered Larry Clark's very touching film Impaled.
If we were to go back into lockdown, what cultural or artistic delights would you recommend to alleviate our boredom?
Read the two volumes of Dossier M by Grégoire Bouillet.
Listen to Circles, Mac Miller's posthumous album.
Watch Certain Women by Kelly Reichardt, La Maison des Bois the series of 7 episodes of 52 minutes produced by Maurice Pialat in the early 70s, or the magnificent Gribiche (1925) by Jacques Feyder, which I saw on Henri, the platform of the Cinémathèque Française set up during the 1st confinement and still free to access.
To see Juste à Nantes, go to the F3 screening of the National competition.