Lunch with Badaren [Swimmer]
Interview with Jonatan Etzler, director of Badaren [Swimmer]
The film is based on real-life events. Can you tell us a bit about this?    
Yes, the film is loosely based on a real event. The idea came to me when I read a small news item about two policemen trying to arrest a man in a public swimming pool. He refused to get out and they tried to persuade him to leave the pool for 45 minutes until he gave up. I thought the situation was so interesting. What was the man in the pool trying to achieve by not leaving? It seemed so pointless. I wondered how the policemen and the bystanders reacted to it. The film is basically my imagination of what happened in that situation.
How would you introduce the film to somebody who hasn't seen it?    
Two policemen try to arrest a man in a swimming pool. He's been a reckless driver and someone has spotted his car outside the bathhouse. When they try to arrest him he refuses to get out, and the dramatic arrest becomes an anticlimactic locked situation. The policemen aren't allowed to jump into the pool and the swimmer doesn't want to come out. Not facing reality is sometimes the easiest way of feeling free. We all know that feeling and that's basically what the film is about.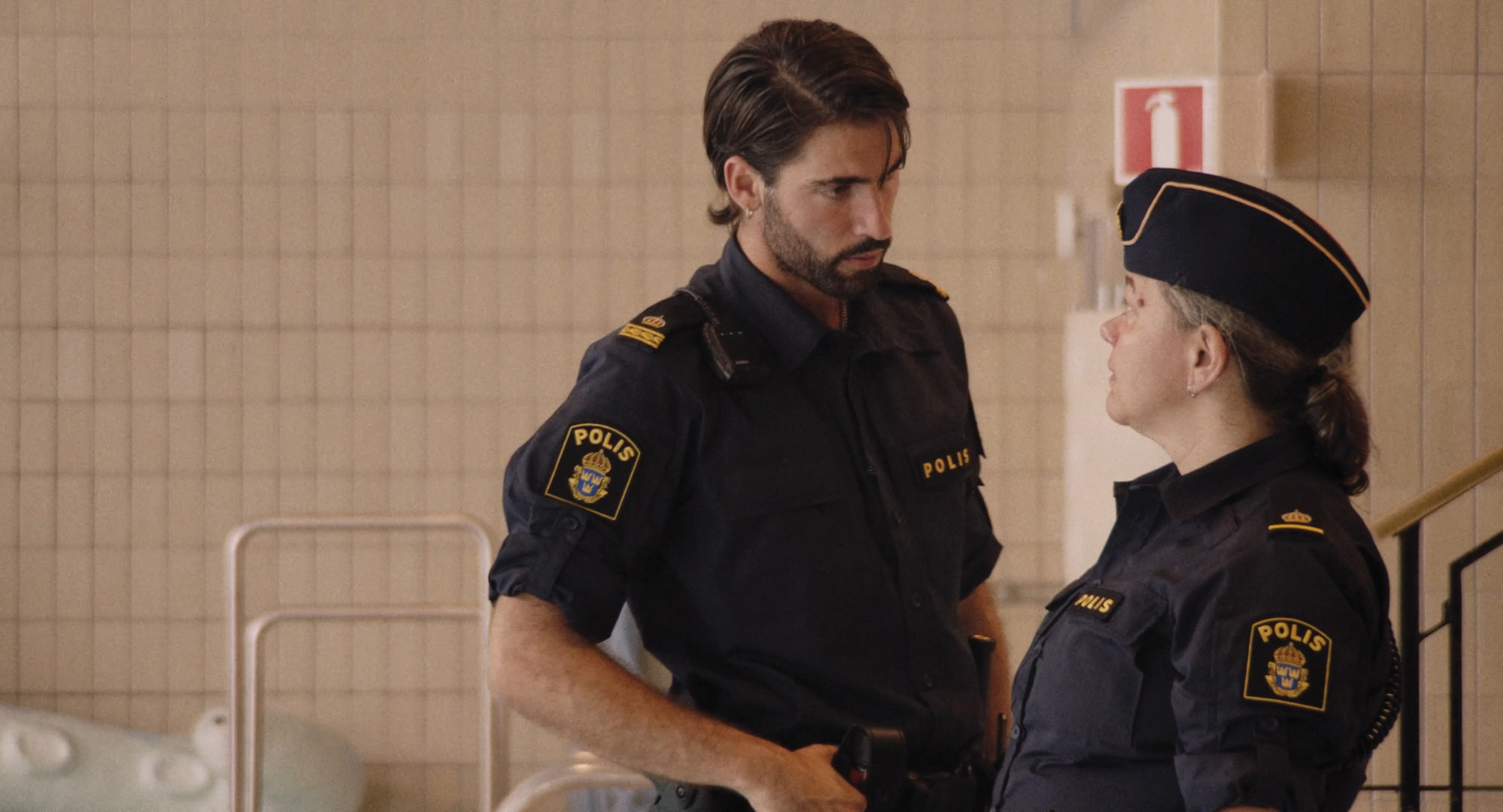 There are comedy elements in Badaren, but the main character is also rather pathetic. How did you develop this character?       
I think he's behaving a bit like Trump refusing to leave his presidential chair. But he's not powerful in any way like Trump. He's just being very stubborn – like a child refusing to do something. To me, he's more childish than pathetic. When I met Pontus Liedberg who plays the main character Ola, it all came together for me – he was perfect for the part. He hasn't acted for the screen before but he's done some amateur theater when he doesn't do his day job – designing crossword puzzles. He has a very peculiar quality – a face that draws you in and makes you empathize with him. In the end I think Pontus created the character.
What was it like filming in the pool? Were there any challenges filming in a location like this?
Yes, it was so hot. It was in the middle of the summer and the air was so humid and warm. After just an hour I felt like I was about to faint. Also: in the middle of the room was a big pool of water. In order to get from the camera to the subject you had to walk around the pool which took a lot of time and energy when you had to do it many times.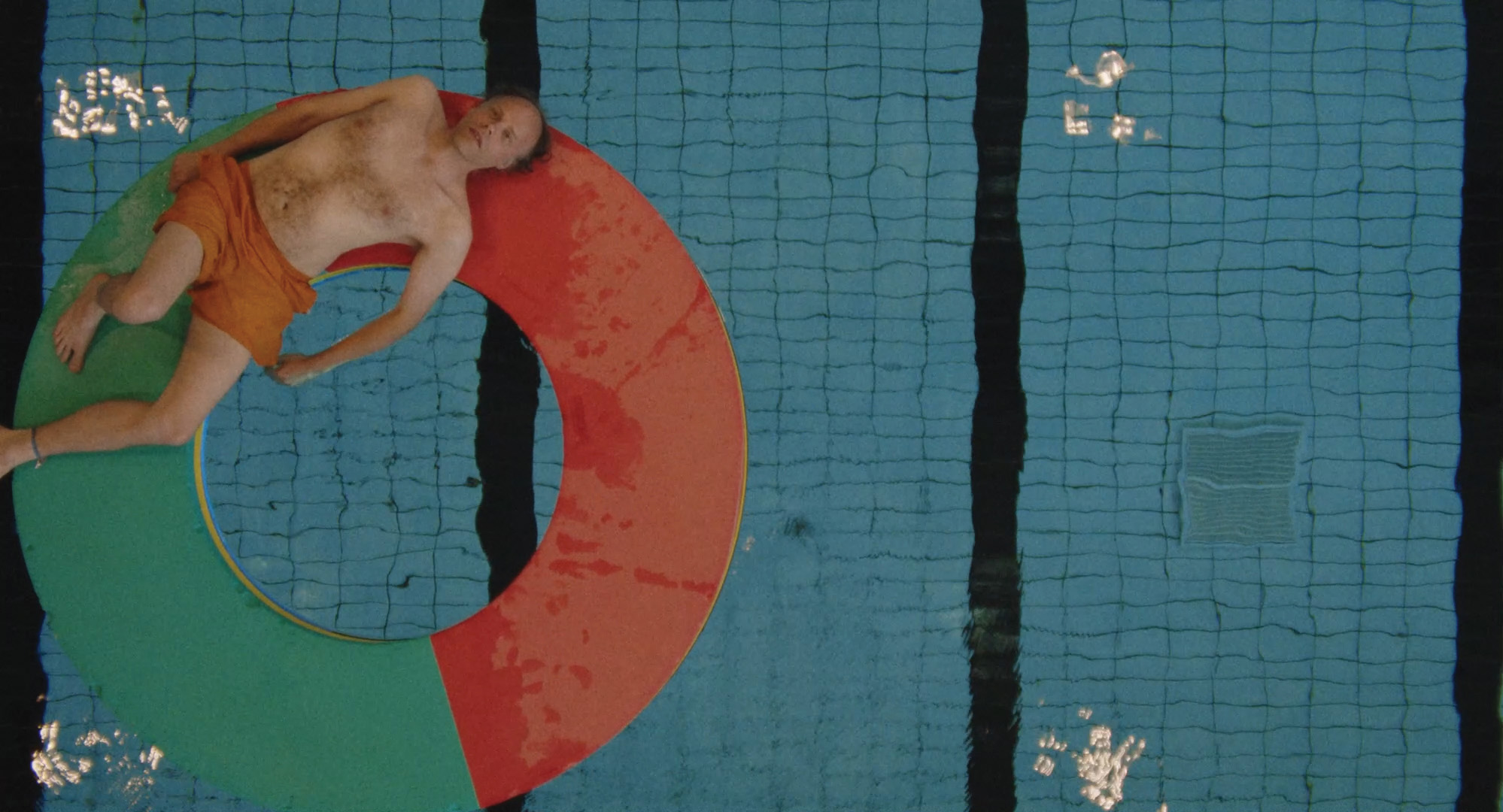 What do you think the future holds for short films?        
Short films has a great future. Unlike features they have the ability to deal with a small event in a person's life, or a small, particular aspect of reality. That's always needed. YouTube has been good for short films, and it's great that we've tried out online festivals now during the pandemic – it works surprisingly well for short film. Of course I really miss going to a festival in the real world, and I hope I can visit the 2022 Clermont-Ferrand in person!
If we were to go back into lockdown, what cultural delights would you recommend to alleviate our boredom?      
I recommend watching short films. Take a break from your work every hour to watch a short and stimulate your mind. I also recommend Swedish cinema – Swimmer has a lot of influence from Swedish filmmaker Roy Andersson (who did an amazing short called World of Glory that won awards in Clermont-Ferrand in the 1990s) and still photographer Lars Tunbjörk. And a little bit Jacques Tati. Also: watch Jan Troell's Here Is Your Life – a beautiful Swedish film from the 1960s. He's also made great short films. Lockdown is also a perfect time to watch all those long epic feature films that you never had the time to see before. Like Ben-Hur or 1900. I'm currently watching Sergei Bondarchuk's seven-hour film version of War and Peace. It's fantastic! I think alternating long, epic features with shorts is also a good strategy for lockdown.